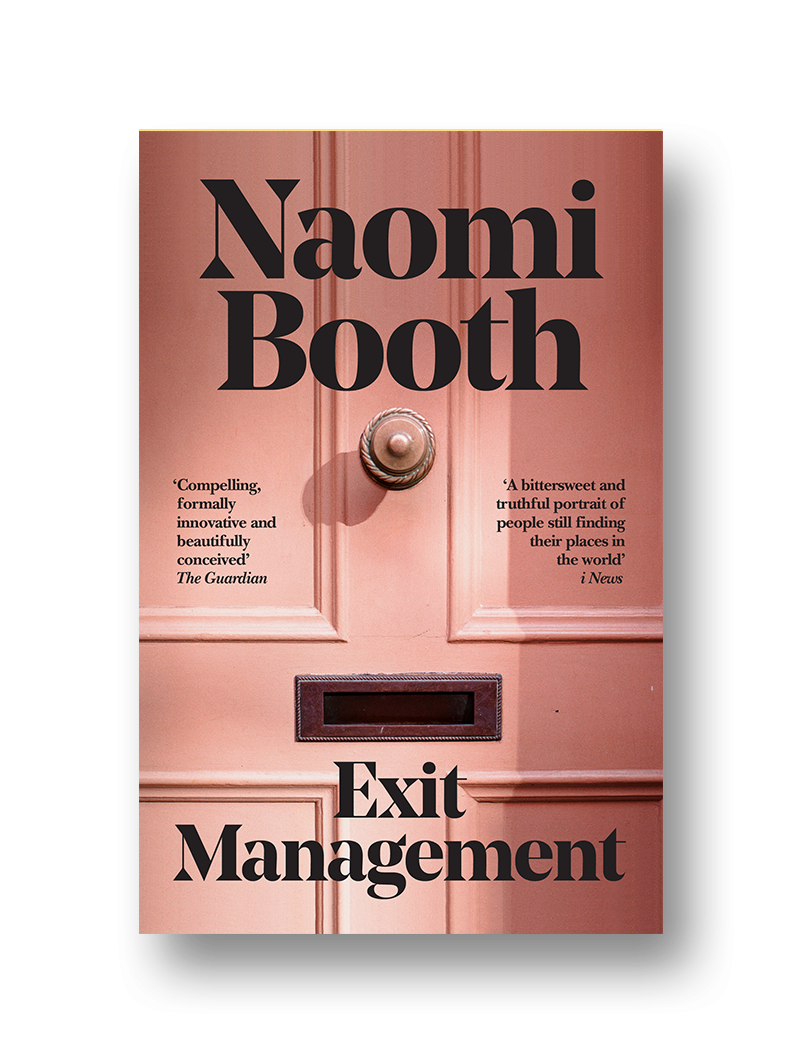 Exit Management (New)
by Naomi Booth
The Guardian's Best Fiction of 2020
'Compelling, formally innovative and beautifully conceived, this is an unusual and deeply rewarding novel that is both politically resonant and peculiarly appropriate to our current predicament.'
– Book of the Day, the Guardian
'A bittersweet and truthful portrait of people still finding their places in the world.'
'Strong symbols and compelling writing hold this novel firmly together, making it one to read now.'
'Exit Management is an essential novel for our times. It fizzes with anxiety and desperate characters; building to a chokehold of thrilling tension. A joy from the first page to the last, all told in exhilaratingly exquisite prose.'
– Lara Williams, author of Supper Club
'Exit Management tells the story of three souls cast adrift in an uncaring world and the redemptive power of art, friendship and love. Naomi Booth renders her entirely believable characters in hauntingly poetic prose that is as beautiful as it is tragic. A major, highly original talent.'
– Cathi Unsworth, author of Weirdo
'A stunning exploration of the human urge to love, protect and remember, and an empathetic study of lost souls driven to connect. Written in poetic and haunting prose, Exit Management pierces the dark heart of society, letting in the light.'
– Megan Bradbury, author of Everyone is Watching
'Exit Management is a reminder of how little we know of what is going on behind strangers' windows or in the darkest twists of their minds.'
– Rowan Hisayo Buchanan, author of Starling Days
'Startling in its economy, Booth's prose tells a tide-shifting story about the fragility of human relationships and how trust works. This is a timely examination of societal and corporeal anxieties, which deftly handles important issues: loneliness, illness, trauma and the body's boundaries.'
– Lucie McKnight Hardy, author of Water Shall Refuse Them
'Exit Management is a truly beautiful read which examines what it means to move on-from relationships, regrets, poverty, and war-torn childhoods. Booth's characters ring with an uncommon authenticity. I devoured this novel.'
– Madeline Stevens, author of Devotion
"At minus five degrees, even the densest blood materials start to turn: the beginnings of a human heart will still into black ice."
There is a house, a beautiful house, that sits in a sought-after London location and is filled with priceless works of art. Joszef the elderly owner is ill; all he wants is some company until the end, and someone to trust his home to once he's gone. Someone to help him over that final line, perhaps.
When Callum, a lost young man longing for direction, comes into his life, the pair form a friendship that transcends their ages. Lauren, Callum's new girlfriend, has other plans, though. Calculating and ambitious, Lauren has already reinvented herself once and to reach the top she will do it again.
Pushed onwards by the poison of ambition and haunted by losses from the past, these characters are drawn together in a catastrophe of endings. Naomi Booth's second novel is an unnerving dissection of class, xenophobia and compassion. Showing us the lengths that we will all go to in order to secure our futures, Exit Management will seize you in its cold hands and show you the dark heart within us all.
Naomi Booth is a writer and academic. Her fiction tends to explore unsettling landscapes, strange compulsions, dangerous bodies and contamination. Her academic research currently focuses on the literary history of swooning. Her first novel, Sealed, was published by Dead Ink Books in 2017.