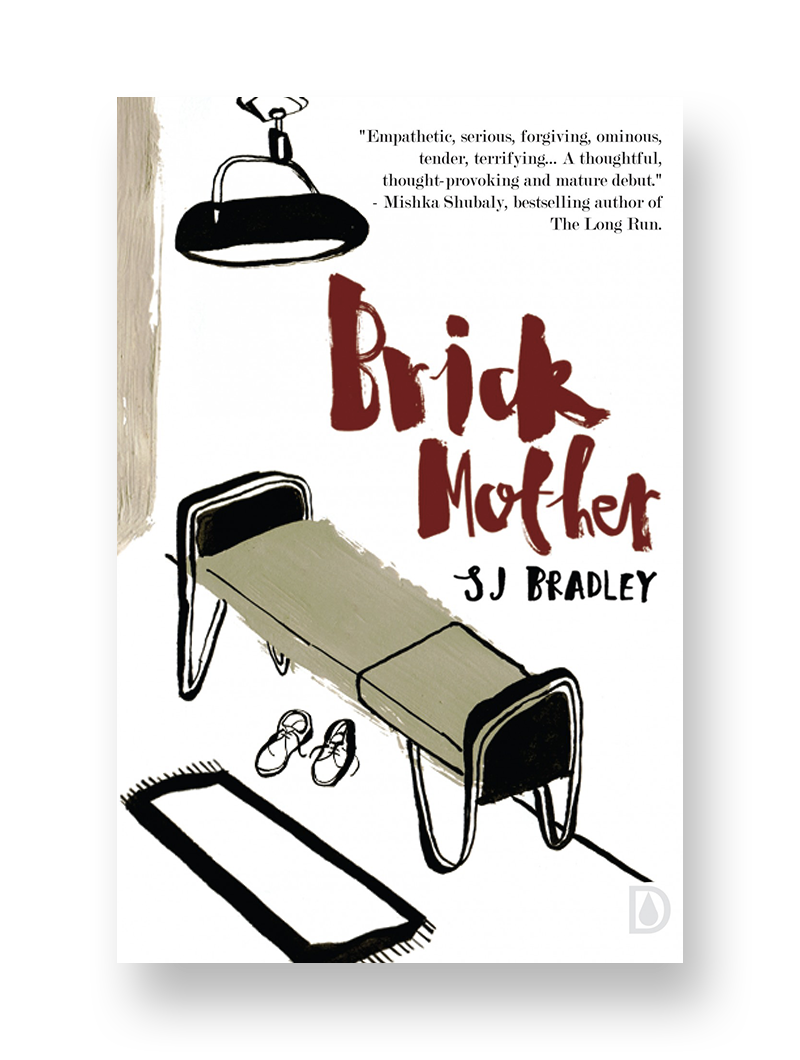 Brick Mother
by SJ Bradley
"Brick Mother is a stunning debut. It manages at once to be both thought-provoking and terrifying, a thrilling page-turner that has a great deal to say about the atomisation of 21st Century society. It goes beyond newspaper headlines to give the reader a real insight into the ordinary and extraordinary daily lives of a seemingly-impenetrable institution."
Anthony Clavane, author of Promised Land
"Empathetic, serious, forgiving, ominous, tender, terrifying… Brick Mother follows the lives of ordinary people tasked with the extraordinary challenge of caring for the mentally ill. Human weakness is witnessed, measured and forgiven in the same breath. Bradley has performed the unlikely feat of inhabiting a cold government building with a nurturing human heart. A thoughtful, thought-provoking and mature debut."
– Mishka Shubaly, bestselling author of The Long Run.
"Brick Mother, SJ Bradley's gripping debut, takes us inside the heart of a psychiatric institution with neither sentimentality nor sensationalism, but rather bringing us the intertwining stories of real characters struggling with their lives, on whichever "side" of the fine line separating inmates from staff they happen to find themselves. I couldn't put it down."
– Tania Hershman, author of My Mother Was An Upright Piano: Fictions
Neriste and Donna both work at the notorious Cedar Hospital Heathley, a secure psychiatric unit that is understaffed and underfunded – a place where doors are kept locked, where the staff carry panic alarms, and where even a pen has to be treated as a weapon
As both women struggle with their lives inside and outside the hospital they are drawn to Nathan Rivers, a patient who committed a terrible crime a long time ago. They, and others, are beginning to wonder – does he still belong within the walls of the hospital?
Brick Mother is a dramatic and emotive tale that peers into the lives of some of the most forgotten in our society. SJ Bradley manages to weave the plot of a thriller around the most simple and understandable of human emotions. Our ability to empathise and our willingness to doubt are turned against us in this stunning debut novel that is unflinching in its portrayal, assessment and conclusions.
"Her story takes us past bus stations, housing offices, bleakly beautiful moors and uninspiring high streets full of pound shops and arcades. And it shows us vulnerable people whose needs are not always met by the systems designed to care for them.  However, despite the grim subject matter, Bradley writes with an obvious affection for her characters, balancing empathy for their situations with a wry and perhaps distinctively northern humour."
"At first glance this is pure kitchen sink. The tone is made out of damp, wet clothes, missed appointments, unhappy relationships, lack of money. But this miasma of mediocrity gradually resolves itself, through Bradley's intricate and unseeable skills, into something absolutely horrifying."
SJ Bradley is one of the organisers behind Leeds based non-profit literary social Fictions of Every Kind. Her short fiction has appeared in various journals and anthologies including our own LS13 where she was recognised as one of the top 20 writers under the age of 40 writing in Leeds. She was shortlisted for the 2013 Willesden International Short Story Prize.
She tweets @BradleyBooks
Out of stock