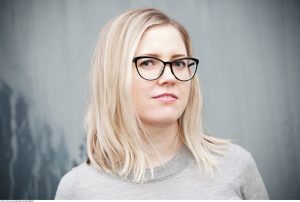 Karen Havelin is a writer and translator from Bergen, Norway. She attended Skrivekunst-akademiet i Hordaland, and has a Bachelor's degree in French, Literature, and Gender Studies from the University of Bergen and University of Paris Sorbonne. She completed her MFA in Fiction from Columbia University in May 2013. Her work has been published both in Norwegian and in English. Her first novel, Please Read This Leaflet Carefully was published simultaneously in the US, the UK and Norway in spring 2019, from Dottir Press, Dead Ink Books and Cappelen Damm (norsk tittel Les pakningsvedlegget nøye).
Favourite debut fiction of 2019
American Spy, by Lauren Wilkinson. This is a thrilling spy novel of unusual depth that takes you from NYC in the 80s to Burkina Faso and Martinique.
Favourite fiction published 2019
Devotion, by Madeline Stevens. This gorgeous novel is one of my favorites ever. It is dark and alarming, but such a delicious treat to read.
Favourite backlist title you've read this year
Circe, by Madeline Miller, a beautiful book I enjoyed deeply.
Favourite non-fiction book of 2019
Collected schizophrenias, Esmé Weijun Wang. Supremely well written, heartbreaking essays that made me examine my own ableism and privilege.
Book most looking forward to being published in 2020.
I can't wait for everyone to read Repentance, by Eloísa Díaz. It is a fabulous detective novel about Argentina in the 80s, 2000s and the big questions of our time: personal responsibility and complicity. I am also very much looking forward to Iris Martin Cohen's Last Call on Decatur Street, a dark novel about a burlesque dancer in New Orleans, and to Joanna Hershon's next book, St. Ivo, after loving the story it was based on.

Lucie McKnight Hardy grew up in rural West Wales, the daughter of London immigrants. She grew up speaking Welsh and her education was in Welsh. She studied English at the University of Liverpool, studied creative writing with the OU, and has just completed the MA in Creative Writing at Manchester Metropolitan University.
Favourite debut fiction of 2019
I'm very keen on tales of the supernatural, particularly ones which are set in the present day but have a firm link to the past. In The Wayward Girls, Amanda Mason tells the story of an investigation into the haunting of a house in the north of England and expertly weaves this together with the account of the original inhabitants of the house during the long, hot summer of 1976. Taut prose, edge-of-your seat tension, and genuinely scary.
Favourite fiction published 2019
A psychopathic lighthouse keeper with a penchant for taxidermy, Geoffroy Lefayen is the charismatic protagonist in Vincent de Swarte's Pharricide, a slim novel that pays to be read in one sitting. A bit of a cheat on my part, as this was first published in 1998 in the original French, but I'm allowing it, as the English translation by Nicholas Royle was published by Confingo this year. A grotesquely mesmerising read.
Favourite backlist title you've read this year
Violent and explicit, Susanna Moore's In the Cut is a noirish thriller that was published in the States in 1995, but only released in the UK this year. Following a particularly shocking murder in her neighbourhood, the creative writing teacher narrator starts to take personal risks and tests the limits of her own safety. This is a novel about sex and death and language and is, I think, one of those books that could only have been written by a woman. It's brutal and brilliant.
Favourite non-fiction book of 2019
I don't tend to read much non-fiction, but I'm very glad I found time to read Cursed Britain by Thomas Waters. It's a history of evil magic in modern Britain (from the Georgian period to the present day), and Waters presents a fascinating account of how perceptions of witchcraft have changed over the last two centuries, drawing on a vast range of source material, and made relatable by the anecdotal depictions of the victims of persecution.
Book most looking forward to being published in 2020.
It's impossible to narrow this down to just one.
Pine by Francine Toon is out from Doubleday in January, and I found this an utterly enchanting read. It's a beautifully told gothic tale of a haunting in the Scottish Highlands, and Toon evokes the spirit of the place perfectly.
You'll have to wait until September to get hold of Anna Vaught's short story collection, Famished, from Influx Press, but it'll be worth the wait. Vaught's writing is visceral and beguiling, and with 'eighteen stories to whet your appetite and ruin your dinner,' this collection promises to be just my cup of tea.

Lee Rourke is the author of the short story collection Everyday, the novels The Canal and Vulgar Things, as well as the poetry collection Varroa Destructor and Vantablack. He is contributing editor at 3AM Magazine, and has written regularly for the Guardian, the Times Literary Supplement, Bookforum, the Independent, and the New Statesman. He lives by the sea.
Favourite debut fiction of 2019
Favourite fiction published 2019
This is really bloody difficult, there's loads, but … The Man Who Saw Everything by Deborah Levy, because it does everything I would love to do with the contemporary novel but can't. And Plume by Will Wiles for exactly the same reason.
Favourite backlist title you've read this year
I've been rereading William Gaddis all year. Utterly breath-taking, and still relevant.
Favourite non-fiction book of 2019
Book most looking forward to being published in 2020.
Massively looking forward to The Blind Light by Stuart Evers, I've read the MS and it's a bona fide masterpiece and work of genius.
*
If you enjoyed the suggestions from Karen, Lucie, and Lee there's currently 30% off their books from the Dead Ink shop throughout all of December!